Jazz Observatory
Many individuals, organizations, and communities' benefit from Earth observations. Using compelling storytelling showcases the impactful uses and enables the uptake of Earth observation and science. With this foundational premise the United States, under the auspice of USGEO, has designed unique settings for the U.S. exhibit booth during the annual GEO Week. While we can't create the three-dimensional effect of these booths here, our hope is that through the pictures and interactive features you too can enjoy the stories of Earth observations.
For GEO Week 2019 in Canberra, Australia, we designed the Jazz Observatory. By making the settings both approachable and fun, we created greater awareness of the benefits of Earth observations and Earth science though engaging stories about our projects and people, celebrating our partners' achievements, and featuring fresh, diverse voices to reach new audiences.
All great jazz musicians rely on collaboration to tap into their talent and create an experience that changes our understanding of what's possible. The same is true for the members of the U.S. Earth Observations Enterprise, who use their individual strengths to collectively set the stage for a better life on Earth.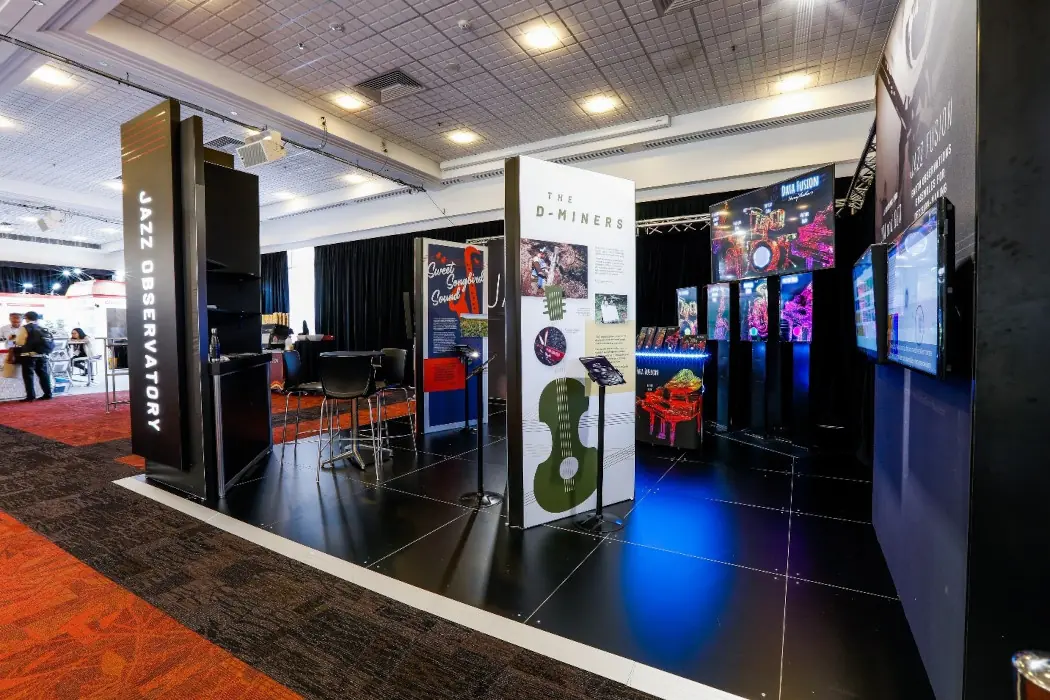 The booth had two interactive areas.
The first interactive area featured Impact Stories, focusing on the impacts of Earth observations in the areas such as health; disasters; weather; food/water/energy; and ecosystems/ecosystems services. The impact stories were displayed on touchscreen tablets throughout the exhibit. Touch on the icon below to launch the virtual impact stories.
The second interactive area featured our "Jazz stage"
Just like in jazz music each instrument is integral to a song, the same is true of Earth observations. It takes Earth observations from in situ to remote sensed, along with models and other analytical information to provide actional decisions. Drums were used to represent in situ Earth observations, the trombone for remote sensed information, the trumpet for model data, and the piano for other types of data such as geospatial, demographics etc. It was then fused together in the upper screen to show how all of this information informs Hurricane forecasting and response; Agriculture and Food Security; and Ecosystems and Ecosystem services.